It's April and defensive end Jadeveon Clowney is still without an NFL team. The former No. 1 overall pick isn't coming off of a banner year, but he plays a premium position and has 32 career sacks to his credit. So, what gives?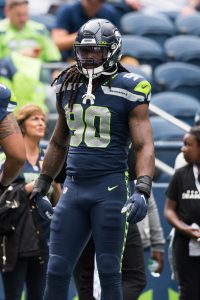 Of course, his price tag is his biggest blocker. Clowney came into the offseason seeking a deal worth $20MM per year. Recently, he backed down from that position, though the incumbent Seahawks are believed to be offering between $13-$15MM per annum, which is still probably less than he's willing to accept.
A reunion still seems possible, but Clowney's camp is working to find a better deal in the interim. Late last week, the Browns entered the sweepstakes and some league officials believe that they have the strongest interest of any suitor. The Browns have tons of cap room – about $43MM – and they might be willing to use some of it to swap Olivier Vernon for Clowney. Of course, that might be easier said than done, since the Browns would still have to find a team willing to take on the rest of Vernon's contract, which is set to pay him $15.25MM.
The Jets could use Clowney's edge rushing ability, but they've been taking a conservative approach to free agency after whiffing on their preferred targets in March. The Titans have also been linked to him, thanks to Clowney's relationship with head coach Mike Vrabel from their Houston days, but they're less inclined to spend on the pass rush after committing $9MM to outside linebacker Vic Beasley.
Other teams have been connected to Clowney, like the Giants, Colts, and Dolphins, though their pass rush needs have already been addressed. The Eagles remain an interesting landing spot for him from a football perspective, and they have breathing room to work with for right now, but their 2021 situation could complicate things. In theory, Philly could still land Clowney if he is willing to accept a one-year deal. The Ravens – with less than $11MM in cap space for the current year – seem less likely to sign him. For the sake of casting a wide net, we'll include all of those teams in our poll.
Where do you think Clowney will sign? Cast your vote in the poll below (link for app users) and back up your pick in the comments.
Photo courtesy of USA Today Sports Images.