Philip Rivers' one-year deal with the Colts is, as previously reported, a $25MM pact. As Aaron Wilson of the Houston Chronicle tweets, that is a fully-guaranteed sum, with $12MM coming in the form of a signing bonus and $13MM coming in guaranteed salary.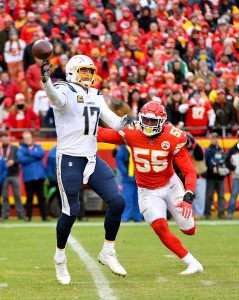 We heard this offseason that Rivers was contemplating retirement, and he confirmed that was indeed the case, as Stephen Holder of The Athletic writes. The 38-year-old indicated that this offseason was the first time he considered hanging up the cleats, but his love for the game and his belief in his abilities to bounce back after a difficult 2019 campaign compelled him to come back.
"Certainly, (I'm) not coming off my best year, but a year where I still know I can play at a high level," Rivers said. "I did it in spurts, just not consistent enough. And I love (football). It was one of those deals where we said, 'If there's nothing out there, then that'll be our answer.'" 
But the Colts came calling, and as Holder writes, the team has no concerns about Rivers' arm strength (though plenty around the league are understandably less certain about what the eight-time Pro Bowler has left). Head coach Frank Reich and OC Nick Sirianni, both of whom worked with Rivers as member of the Chargers' staff, championed the signing and believe he will represent a significant upgrade over 2019 starter Jacoby Brissett.
For his part, Rivers was hoping that the Colts would reach out to him, as Mike Chappell of CBS 4 writes. "Truthfully was hoping it was going to be the Indianapolis Colts," Rivers said. "From the standpoint of the locker room, the team and shoot, I failed to mention that offensive line. That's a heckuva group."
Indeed, Rivers will be protected by one of the best O-lines in the league, and he said the offensive scheme is essentially the same one he has played in since 2013. While the Colts do not have much proven pass-catching talent behind T.Y. Hilton — and there are no true difference-makers on the FA market at this point — Indy could find an immediate contributor or two in a draft that is deep at WR.
As for his future plans, Rivers, who previously indicated he wanted to play a maximum of two more years, confirmed that he wants to continue his playing career into 2021. Beyond that, though, it's hard to say. "I'm not going to get carried away. I don't think you'll see me in the Tom Brady range," Rivers said.
Photo courtesy of USA Today Sports Images.