It is difficult to pinpoint exactly where Utah State QB Jordan Love will land in this month's draft, and as such, he is generating interest from plenty of teams. Kevin Patra of NFL.com says that the Saints, Packers, Chargers, Raiders, Dolphins, and Colts have all been in contact with Love via FaceTime and other virtual means.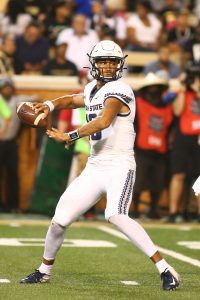 Despite an uneven 2019 season, Love possesses all the physical tools that a team could want in a signal-caller and showed enough of his ability at the scouting combine to create some buzz. So while teams like the Chargers and Dolphins have more immediate needs at quarterback, it's not surprising that clubs like the Colts and the Packers would be taking a look as well, as they could have Love learn from their current starters while he continues to refine his game. Indeed, Tom Silverstein of the Milwaukee Journal Sentinel says Green Bay had planned to host Love and most of this year's top QB prospects at its facility before pre-draft visits were cancelled (Twitter link). Of course, the Packers drafted Aaron Rodgers when Brett Favre was still playing at a high level, so if Love falls to them, perhaps they could make a similar move.
The Saints' involvement is somewhat surprising since we heard last month that New Orleans was not interested in Love. But while the team holds Taysom Hill in high regard and views him as the heir to Drew Brees, the fact remains that Hill will be 30 in August and has thrown 13 passes in his professional career, so a little due diligence couldn't hurt.
The Dolphins, meanwhile, are reportedly very high on Love. While Miami's dream scenario remains one in which it acquires the No. 1 overall pick from Cincinnati to select Joe Burrow, the 'Fins will definitely walk away from the draft with a high-end signal-caller in tow.
Love looked like such a player in 2018 by throwing 32 touchdowns against six interceptions. Unfortunately, his arm strength and stature didn't yield the same results last year, as he had 20 TDs against 17 INTs while playing with a lesser supporting cast. But plenty of QBs have had disappointing final seasons in college and have gone on to do big things in the pros, and apparently a number of teams believe Love can do just that.
Photo courtesy of USA Today Sports Images.