Before the Super Bowl, we heard that a Carson Wentz trade could be imminent. However, the Eagles are not close to completing a deal with any of the interested teams at this time, according to NFL.com's Mike Garafolo (on Twitter).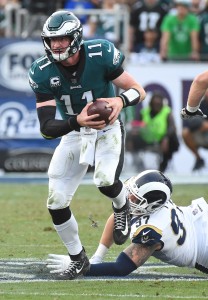 The Bears and Colts are among the teams eyeing No. 11, but the other clubs involved remain a mystery. It's believed that the other teams that missed out on new Rams starter Matthew Stafford could entertain Wentz — that list includes the Broncos, Panthers, and 49ers. Of course, the Panthers and Broncos would prefer a deal for Deshaun Watson, if they can work the Texans down to a reasonable ask. One of those two players will likely be the next domino to fall in the QB carousel.
The Colts, who just lost Philip Rivers to retirement, would be a logical fit for Wentz. Wentz, meanwhile, wouldn't mind reuniting with former mentor Frank Reich.
Publicly, the Eagles have said that they'd like to move forward with Wentz, but the North Dakota State product still wants out. Any team taking him on would also be taking on his sizable contract, which runs through 2024. However, there's an escape hatch after the 2022 season, which helps somewhat. In any case, the Eagles won't be able to match the Stafford package of two first-round selections and a third-rounder. Stafford, at this point, has more appeal, and the Lions took on Jared Goff's hefty contract in order score all of that draft capital.
Photo courtesy of USA Today Sports Images.