Among the many notable absentees from ongoing OTAs is Colts cornerback Kenny Moore. As is the case with a number of other players skipping the voluntary program, he is doing so in the hopes of landing a more lucrative contract, as detailed by Joel A. Erickson of the Indy Star (Twitter link).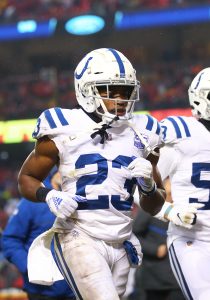 Moore, 26, has experienced quite the upward career trajectory. Beginning his tenure in Indianapolis as a former UDFA in 2017, he quickly emerged as a starter and key contributor to the team's secondary. As a result, he was given a four-year extension in 2019; the $30MM in new money he received as a result of the deal was a record for slot corners.
He still has two years remaining on that contract, with salaries of $6.5MM and $6.795MM. His cap hits over that span are $6.75MM and $7.545MM, which represent solid value given his level of play. Between Moore's continued ascension – which included a Pro Bowl nod after a career year in 2021 – and the fact that there is no more guaranteed money left on his contract, though, he is now among the players attempting to leverage a new deal.
"Everything's voluntary at this point," Frank Reich said, via The Athletic's Stephen Holder (subscription required). "You guys obviously know how we feel about Kenny. Every player's got to make his own decision. We love Kenny. We're going to continue to work hard and get the guys ready who are here. I'm glad he's here. I know he didn't get to work today. But I'm thankful he's here and seeing everything that's going on."
As Erickson states, Moore is "upset and feels like he's underpaid" relative to his contributions to the team. If he were to negotiate a new contract, it would represent another significant move made by the Colts with respect to their CB room. That said, the Colts are likely to resist negotiating with a player who has more than a year remaining on his contract, Holder adds, due to the precedent it would set. That is not an uncommon stance, though Moore is arguably the team's most valuable defensive back.
The team traded away Rock Ya-Sin and signed Stephon Gilmore in free agency this offseason. The situation with Moore could now become more complicated than many would have expected.