Colts quarterback Carson Wentz is dealing injuries to both of his ankles (Twitter link via NFL.com's Ian Rapoport). Wentz will undergo tests today to learn more, but this doesn't bode well for his future availability.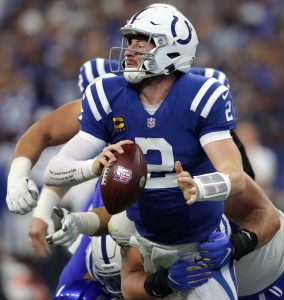 Wentz was forced out in the fourth quarter against the Rams on Sunday. That's when his right ankle twisted underneath Aaron Donald.
"He rolled it up pretty bad," Colts coach Frank Reich said (via ESPN.com). "I had a sense when he walked off the field. It didn't look good. Sometimes if you go back in right away when it's still warm you can maybe gut out a few more plays. The longer we were off the field, it stiffened up and he tried, but there was no chance."
Now, we know that Wentz's left ankle is also in bad shape. Second-year quarterback Jacob Eason — who stepped in and went on to lob an interception — will likely start for the Colts in Week 3 and possibly longer.
"Felt it right away. Tried to tape it up and do everything I could to finish the game," Wentz said. "I've sprained my ankle probably 100 times since I was a kid. This one I just couldn't play on it."
The Colts, now at 0-2, badly need to get in the win column. They'll likely be without Wentz on Sunday when they face the Titans in Nashville. After that, they've got two more road games before they return home to Indy.
Photo courtesy of USA Today Sports Images.