Colts cornerback Kenny Moore is unhappy with his current contract, and the latest reporting on the matter suggested that negotiations towards a new deal have not gained much traction. Moore, who is due base salaries of $6.5MM and $6.795MM over the next two years, believes those figures are not reflective of his value to the club.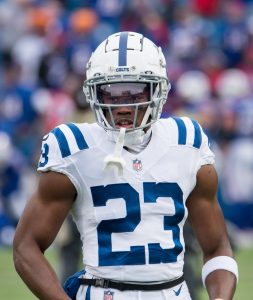 Specifically, as Zak Keefer of The Athletic tweets, Moore wants to be paid as an elite cornerback, not as an elite slot cornerback. "I want to play football … [I don't] like the whole nickel slot corner thing," Moore said. "I'm a corner at the end of the day. You guys watch the same games that we play."
Moore's current contract, signed in 2019, gave him $30MM in new money, which was a record for slot defenders. That deal was authorized after the former UDFA had accrued just two years of service time, and between that and the fact that the early payout gave Moore an opportunity to hit the open market before he turns 29 — to say nothing of the two years of club control that still remain — the Colts do not seem particularly inclined to offer many concessions.
On the other hand, Moore's dissatisfaction is understandable. Because teams are deploying nickel packages more and more frequently, a team's top slot DB is really a starter, and while no one has played more slot coverage snaps than Moore since 2018 — h/t Anthony Treash of Pro Football Focus — he has seen plenty of time outside the numbers and has proven adept at tackling in space and playing behind the line of scrimmage. He is also a bonafide playmaker, having notched eight interceptions over the last two seasons (including one pick-six), and he tallied 102 total tackles in 2021, which saw him earn his first Pro Bowl bid.
Still, there is a considerable gap between Moore's $8.325MM average annual value and the AAVs enjoyed by the game's elite boundary corners. Jaire Alexander's new contract with the Packers made him the first $21MM/year corner in NFL history — though that deal was comparatively light on guaranteed money — and there are ten CBs making at least $16.5MM per year. So even if the Colts agree to address Moore's contract in some way, he probably should not expect to be catapulted into the top ten earners at the cornerback position.
Perhaps, as our Sam Robinson recently posited, the two sides can come together on some sort of incentive package for the 2022 campaign. And assuming Moore continues to perform at a high level, the Colts will probably be more serious about a lucrative extension next offseason, when Moore will be entering a platform year. The Valdosta State product did attend the team's mandatory minicamp after skipping voluntary OTAs, so unless talks truly turn sour, it seems likely that he will appear for training camp as well.