John Brown has a couple of teams in mind. This week, the free agent wide receiver told SiriusXM (Twitter link) that he sees the Steelers and Colts as solid fits.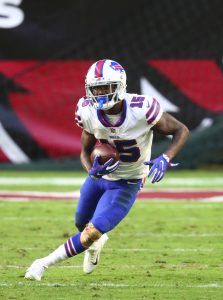 "It depends who needs receivers," Brown said. "You know, the Pittsburgh Steelers, Big Ben is definitely good with the deep ball, and the Indianapolis Colts, [I've noticed] the way they use T.Y. Hilton. When we played those guys in the playoffs last year I walked off and I'm like, this team, they're up and coming, they're going to be a problem in the next few years."
"So, you know, I got options, I feel like I would fit in anywhere, but those are just the main two off the top [of my head]. Anywhere I can come in and help and be a small piece to the puzzle, or if they need me to be a big piece to come in and help younger guys out and move around and do what I have to do. Those are the main two teams, though."
The Colts would make plenty of sense for Brown. As the former Bills standout eluded to, Hilton is out of contract, and Brown could take his place on the depth chart. The Steelers, meanwhile, will probably have bigger needs to address, even if JuJu Smith-Schuster goes elsewhere.
In 2019, Brown's first season with the Bills, he managed new career highs of 72 catches for 1,060 receiving yards. Last year, he was limited just nine games and finished with a 33/458/3 stat line. It wasn't the ideal platform year for Brown, though he didn't know that it would be his walk year at the time. The Bills released Brown on Wednesday; the veteran says the move came without warning.
Photo courtesy of USA Today Sports Images.