For now, the Colts are not planning to trade for a quarterback to fill in for the injured Carson Wentz. Similarly, the club is not planning to shake up its QB depth chart, currently topped by 2020 fourth-rounder Jacob Eason.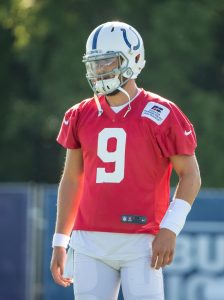 According to Stephen Holder of The Athletic, sixth-round rookie Sam Ehlinger has performed better than Eason in training camp, prompting reporters to ask head coach Frank Reich if he might consider elevating Ehlinger to QB1 status.
"Fair question, because [Ehlinger] has looked good," Reich said. "But, right now, our plan is to put Jacob in the driver's seat. Sam is getting a lot of reps. They'll keep competing. This is a competition. … Jacob is making good progress as well."
Holder concedes that Eason has demonstrated improvement, but he says Ehlinger has generally looked like the stronger passer, especially when it comes to throwing with anticipation. And while Eason has the arm strength and size that Ehlinger lacks, Ehlinger's athleticism is superior to that of his counterpart (which might prove critical given that the Colts' O-line is presently without several starters).
Indianapolis' preseason opener is set for August 15, and it sounds as if Eason will keep working with the first-team offense up to and through that game. But if Ehlinger continues to play better, Reich could be forced to make a switch.
This is a prime opportunity for both young passers. The Colts, who went into the summer with championship aspirations, hope one of Eason or Ehlinger can at least keep the club afloat until Wentz returns.
Indianapolis is also rostering Brett Hundley, but the former Packers draftee is not a candidate to be Wentz's replacement.
Photo courtesy of USA Today Sports Images.