FIU quarterback James Morgan is starting to generate some buzz as we get closer to draft day, as Aaron Wilson of the Houston Chronicle writes. Morgan made his way onto our site for the first time today, when we wrote that the Patriots have shown some interest, and New England is not the only team sniffing around.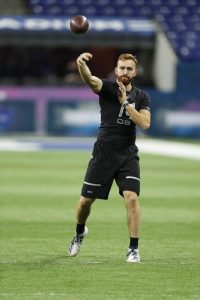 Per Wilson, a number of clubs are closely vetting Morgan, though COVID-19 restrictions obviously mean that he can't visit teams or work out privately for them. Wilson's sources say that in addition to the Patriots, the Packers, Bears, Colts, Raiders, Giants, Bills, Jets, and Dolphins are among the teams intrigued by Morgan.
It is not surprising to see most of the teams on that list. New England, of course, is in the market for a collegiate passer after watching Tom Brady sign with the Buccaneers, and the Dolphins have long been connected to this year's top rookie QBs. The Raiders, Bears, and Colts have varying degrees of long-term uncertainty at the quarterback position, and the Packers had planned to host the best QB prospects before pre-draft visits were cancelled (Morgan is actually a Green Bay native, and the Packers may be starting to prepare for life without Aaron Rodgers).
Meanwhile, all three New York outfits seem to have a long-term solution under center already, although none of their incumbents are sure things at the moment. And given that Morgan is a mid- to late-round prospect, it couldn't hurt for those teams to at least have a look.
Morgan performed well at this year's scouting combine and at the East-West Shrine Game, and a Southeast Area NFL scout said Morgan has one of the three strongest arms in the draft, along with the intelligence and leadership qualities that teams covet. After an uneven tenure at Bowling Green, Morgan transferred to FIU in 2018 and earned Conference USA Newcomer of the Year honors by completing over 65% of his passes for 26 TDs and seven interceptions.
His 2019 effort was not quite as strong, but he has put together enough quality tape to start rising up draft boards.
Photo courtesy of USA Today Sports Images.