The Colts may be without Carson Wentz for the foreseeable future, but that doesn't mean the team will pursue a trade. Chris Mortensen reports (via Twitter) that Indy won't be making a trade for the likes of Nick Foles, Gardner Minshew, or Marcus Mariota.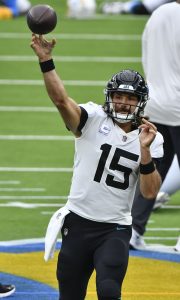 [RELATED: Carson Wentz To Have Surgery, Out 5-12 Weeks]
The reporter notes that Wentz could begin rehabbing his foot after two weeks and "hasn't been ruled out" for Week 1 (although he admits this is an optimistic timeline). Mortensen opines that if the "relatively safe surgery and rehab" happens to go awry, then the team could reconsider a trade for a quarterback. The organization did provide a rather wide timeline for Wentz's return, with head coach Frank Reich suggesting that the recent acquisition could be back within five to 12 weeks. The early side of that timeline could see Wentz on the field against the Seahawks to begin the year.
Following news of Wentz's impending foot surgery, we learned that the Colts wouldn't be pursuing a trade for Foles, who's currently buried on the Bears depth chart. It makes sense that the sentiment would apply to other signal callers; Minshew and Mariota wouldn't be available for cheap, and the Colts front office probably isn't willing to give up assets for what could end up being a backup.
With Wentz temporarily sidelined, the Colts will instead move ahead with their collection of backups. 2020 fourth-round pick Jacob Eason should see a larger role, although it's worth noting that the quarterback has barely seen the field in three of the past four years (including his time in college). The Colts also recently added Brett Hundley, but the veteran hasn't started a game since he went 3-6 in nine games with the Packers in 2017.
Photo courtesy of USA Today Sports Images.