The Colts continue to lock up cogs from their standout 2018 draft class. They added Nyheim Hines to the list Friday, signing the situational running back to an extension Friday, Field Yates of ESPN.com tweets.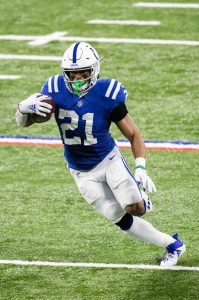 Hines agreed to a three-year, $18.6MM deal with $12MM guaranteed, per Yates. A big chunk of that total — $10.3MM — is guaranteed at signing, USA Today's Josina Anderson tweets. In a backfield with Jonathan Taylor and Marlon Mack, Hines is now the Colts' highest-paid ball-carrier — by a significant margin. A former fourth-round pick, Hines was going into a contract year. The Colts now have the Taylor-Hines tandem locked up for at least three more seasons.
This deal comes after the Colts locked down 2018 second-rounders Darius Leonard and Braden Smith earlier this summer. The big fish from that draft haul (Quenton Nelson) remains unsigned, but given the work Indianapolis has done to retain the supporting-casters from that group, a monster Nelson extension in 2022 appears likely.
Indianapolis slotted Hines as a passing-down back during his rookie year and added return duties to his plate in 2019. The team has kept Hines in these roles since, and the elusive North Carolina State alum has become one of the league's best off-the-bench backs. He caught 63 passes as a rookie and added a second 63-catch season in 2020, amassing a career-high 862 yards from scrimmage last year.
At $6.2MM per year, Hines checks in among the top 12 highest-paid backs. A sizable gulf between the eight-man group earning north of $12MM annually and the field has emerged. Among backs on veteran contracts, only Melvin Gordon makes between $6.5MM and $12MM per year. But Hines did quite well for himself, with his new deal surpassing Chargers starter Austin Ekeler's AAV, and is set to aid Carson Wentz's transition this season.
Photo courtesy of USA Today Sports Images.