Colts QB Carson Wentz will be under center for the regular season opener against the Seahawks this afternoon, as Tom Pelissero and Ian Rapoport of NFL.com write. A Week 1 return was looking more and more likely for Indy's new signal-caller, and his presence will obviously be key in the Colts' push for a return to the postseason.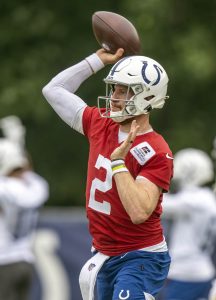 Wentz underwent surgery on August 2 to deal with an old broken bone in his foot that had chipped and splintered. The Colts initially announced a vague five- to 12-week timetable, and according to Pelissero and Rapoport, the wide range of possible return dates was because no one knew until Wentz went under the knife what type of surgery he would require.
If doctors needed to insert a screw to secure the splintered piece of bone, Wentz would have missed two to three months. Luckily, the bone fragment was simply removed, and Wentz's recovery proceeded without complications.
Head coach Frank Reich said Wentz will not be limited in any way, though the offensive play-calling may be just a bit more conservative than it normally would be.
"As far as what he can do, he can do everything," Reich said. "What will we actually call? Will we keep the reins on a little bit? Probably. Probably so. I just think that makes sense. I just think we'll manage it. We'll be smart."
Wentz will be protected by All-World left guard Quenton Nelson, as Adam Schefter of ESPN.com tweets. Nelson underwent foot surgery of his own in August, but he subsequently battled a back issue that put his Week 1 status in doubt.
Unfortunately, left tackle Eric Fisher will not suit up today, as Schefter notes in a separate tweet. That means Julie'n Davenport will be protecting Wentz's blind side.
Photo courtesy of USA Today Sports Images.