7:31pm: Guarantee-wise, it does not look like Leonard's deal will be quite as lucrative as Mosley's. The Colts linebacker will see $33MM fully guaranteed, Jason La Canfora of CBS Sports tweets. That comes in $10MM below Mosley's figure, which could be expected given that the Jets linebacker was a free agent when he inked that deal in 2019.
Factoring in the injury guarantees, Leonard's extension does lead all off-ball linebackers; the Colts included $53MM guaranteed overall. Leonard's full $20MM signing bonus will be paid by March 2022, JLC adds. Overall, Leonard's extension checks in at $98.5MM base valeu, per OverTheCap, but it can max out at $99.3MM through weekly bonuses and Pro Bowl incentives.
8:07am: The Colts and star linebacker Darius Leonard have agreed to a five-year, $99.25MM extension, as Ian Rapoport of NFL.com reports (via Twitter). Leonard is now the highest-paid off-ball LB in the league.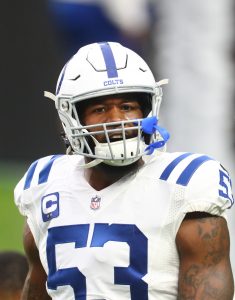 Leonard and 49ers 'backer Fred Warner, both selected in the 2018 draft, became extension-eligible at the end of the 2020 campaign, and because they were not first-round choices, they were slated for free agency next spring. So it was imperative for their respective clubs to extend their defensive cornerstones sooner rather than later, and after Warner signed a five-year, $95MM pact last month, it felt like only a matter of time before the Colts and Leonard came together on a slightly more lucrative accord.
Indeed, we heard on July 21 that the two sides were close to a new deal, but as Rapoport adds in a separate tweet, negotiations came to a standstill over the past several weeks. It's unclear exactly what the holdup was, but perhaps it had to do with guarantees and cash flow.
As Jason Fitzgerald of OverTheCap.com reports, Leonard did not just set the off-ball LB market in terms of average annual value ($19.85MM). His $52.5MM in guaranteed money edges out the $51MM that C.J. Mosley pulled down from the Jets several years ago, and the $60MM that he will receive over the first three years of the deal tops Warner's $58.7MM (Twitter link).
Leonard, 26, is certainly worthy of that type of commitment. He earned Defensive Rookie of the Year honors in 2018, and in his first three years as a pro, he has made three Pro Bowls and earned two First Team All-Pro nods. Although Pro Football Focus did not think as highly of his run defense or pass coverage in 2020 as it did in the prior two years, he consistently ranks among the best LBs in football in terms of both advanced metrics and raw stats. Since entering the league, Leonard leads all inside linebackers in tackles per game (9.9), TFL per game (one), sacks (15), forced fumbles (nine), and he is second in interceptions (seven) (h/t Field Yates of ESPN.com on Twitter).
In short, he is an elite defender and an indispensable piece of Indy's front seven. He is now being paid like it.
Alex Marvez of SiriusXM NFL Radio first reported that a deal was either done or close to being done (Twitter link).
Photo courtesy of USA Today Sports Images.