A welcome surprise for the Colts. Quarterback Carson Wentz returned to practice on Friday, which means he could potentially play on Sunday against the Titans.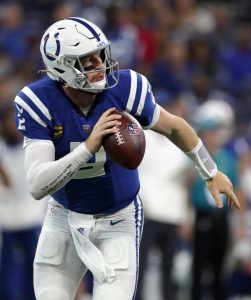 Wentz was forced out in the fourth quarter against the Rams on Sunday, when his right ankle visibly twisted beneath defensive lineman Aaron Donald. Meanwhile, his left ankle was also sprained, which signaled that he'd be out for one game, at minimum.
"He rolled it up pretty bad," Colts head coach Frank Reich said earlier this week. "I had a sense when he walked off the field. It didn't look good. Sometimes if you go back in right away when it's still warm you can maybe gut out a few more plays. The longer we were off the field, it stiffened up and he tried, but there was no chance."
The Colts won't rush Wentz back to the field, so Jacob Eason could still be in line to start this week. Beyond them, Brett Hundley stands as the next QB up with Sam Ehlinger on injured reserve.
Photo courtesy of USA Today Sports Images.