Yesterday, it was reported that Carson Wentz was looking to avoid surgery on his troublesome foot and heal up with rest and rehab. Clearly over the past 24 hours that was ruled out, since Colts head coach Frank Reich announced Monday that Wentz would have surgery and be sidelined for the next 5-12 weeks.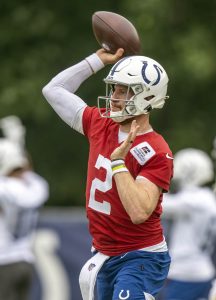 That's a pretty open-ended timetable for a return, so it's anyone's guess as to when Wentz will actually be back under center. Five weeks could have him back right in time for the start of the regular season, 12 weeks means he'd miss almost half the regular season. Reich revealed the injury isn't exactly new, with doctors telling the team it may date back to Wentz's high school football days.
Apparently there's an old broken bone in his foot that has now become loose. The surgery will be to remove the bone. It's a tough blow for a Colts team that had playoff aspirations. They've been tight-lipped about the situation, and it's also unclear what they plan to do at quarterback if Wentz does in fact miss regular season games.
They could go with last year's fourth-round pick Jacob Eason, who didn't sniff the field as a rookie, or with former Packers and Cardinals backup Brett Hundley who they just signed the other day. Hundley does at least have a decent amount of starting experience. Rookie sixth-round pick Sam Ehlinger from Texas is on the roster as well, and a trade for a veteran is a distinct possibility at this point.
There are also significant draft pick implications with this timeline. When Indy made the trade with the Eagles to land Wentz, they agreed to give up a 2022 second-round pick. However, that pick becomes a first-rounder if Wentz plays 75 percent of the team's snaps this season, or 70 percent and they make the playoffs.
It'll be very interesting to see how that now plays out. If Wentz is going to come very close to missing say a fourth of the season, it might be in the team's best interest to sit him an extra week and save the ever valuable first-round pick.
Photo courtesy of USA Today Sports Images.