The Eagles' hiring of Frank Reich disciple Nick Sirianni does not seem to have changed Carson Wentz's stance about wanting a trade out of Philadelphia. While Eagles brass made working with Wentz a priority during the franchise's coaching search, trade chatter surrounding the former No. 2 overall pick has reignited since the Matthew Stafford deal.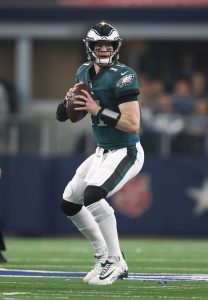 This recent trade buzz is connected to Wentz still wanting to leave Philadelphia, ESPN.com's Adam Schefter said during an appearance on 97.5 The Fanatic. Doug Pederson's firing was previously said to "significantly increase" the chances Wentz stayed in Philly, but the trade request the five-year veteran planned to submit appears to still be his preference.
It would cost the Eagles $34MM to trade Wentz — compared to the record $22MM it cost the Rams to ship out Jared Goff in the Stafford deal — but the team has fielded calls. They have already received "aggressive" offers for the unhappy quarterback, Tim McManus of ESPN.com reports. Despite Wentz being tied to a lucrative contract and coming off his worst season, the Eagles are still aiming for substantial compensation, per McManus.
The Lions used Goff's high-end contract to leverage the Rams into surrendering two first-round picks. With the Eagles not as close to a Super Bowl as the Rams at present, the parameters of a Wentz trade would seemingly be different than the ones that led to Goff's Los Angeles exit.
Wentz joins Deshaun Watson among passers seeking trades entering the 2021 league year, and the former would not fetch a haul in the same vicinity as the latter. Having Reich as their head coach and having recently hired ex-Eagles passing-game coordinator Press Taylor, the Colts line up as the team that would make perhaps the most sense for Wentz — if he is made available.
Colts GM Chris Ballard said Friday, during a radio interview with 107.5 The Fan's Dan Dakich, the Colts are "exploring lots of options" at quarterback (Twitter link). It appears safe to expect the Colts to discuss Wentz with the Eagles, but it is uncertain what kind of offer Philly can expect. The Colts traded their first-round pick last year for DeForest Buckner but fit the profile as a suitor due to their playoff-caliber roster with a gaping hole at quarterback. With Philip Rivers retiring and Jacoby Brissett not on their 2021 payroll, the Colts also are projected to have the second-most cap space entering the 2021 league year
Photo courtesy of USA Today Sports Images.