5:53pm: The Pacers and Brogdon have officially completed their new deal, according to the transactions log at NBA.com.
---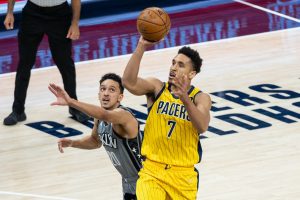 2:14pm: The Pacers and guard Malcolm Brogdon have agreed to a two-year, $45MM extension, agent Austin Brown of CAA Sports tells Adrian Wojnarowski of ESPN (Twitter link).
Brogdon's current contract covers the next two years, so his new deal will begin in 2023/24 and will lock him up through 2025. The 28-year-old is earning $21.7MM in '21/22 and $22.6MM in '22/23, for a total of $44.3MM over the next two seasons, so his new two-year extension figures to look pretty similar to the remainder of his current deal.
Brogdon, who will turn 29 in December, has spent the last two seasons in Indiana and enjoyed perhaps the best statistical season of his career in 2020/21. He averaged a career-high 21.2 PPG to go along with 5.9 APG and 5.3 RPG in 56 games (34.5 MPG), posting a shooting line of .453/.388/.864.
There had been some whispers throughout the offseason that Brogdon could be a trade candidate, and his name – as well as Caris LeVert's – surfaced in rumors related to the Ben Simmons trade talks between the Sixers and Pacers. However, subsequent reports suggested that Philadelphia wasn't that enamored by the idea of a package centered around Brogdon and/or LeVert.
Now that he's signing an extension, Brogdon won't be a trade option for the Sixers or any other team this season. As Bobby Marks of ESPN tweets, Brogdon's new deal exceeds the extend-and-trade limits in the Collective Bargaining Agreement, meaning he won't become trade-eligible for six months. This season's trade deadline is on February 10.
As we noted this morning, if Brogdon hadn't finalized an extension today, he wouldn't have been eligible to sign one until the 2022 offseason, since he still has multiple years left on his current deal.